Amplitel sets new engineering standards with Kennaook/Cape Grim Tower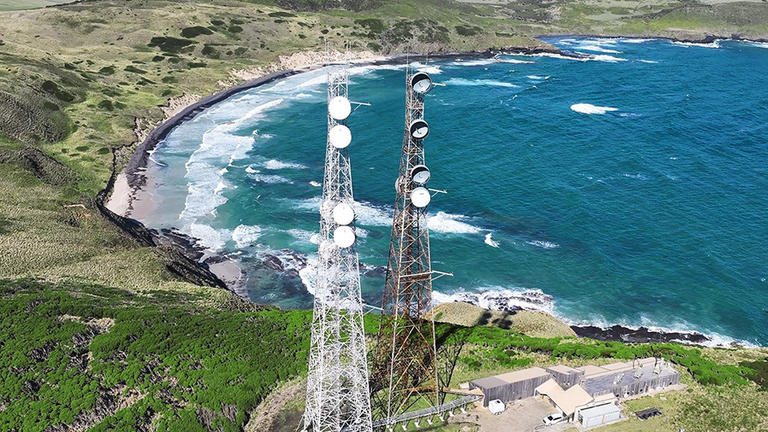 Amplitel, Australia's leading wireless tower infrastructure provider has completed the lifecycle replacement project for its Kennaook/Cape Grim Tower, located in the Bureau of Meteorology's Kennaook/Cape Grim Baseline Air Pollution Station in north-western Tasmania.  
The station is one of the three baseline air pollution stations in the World Meteorological Organization's 'Global atmosphere watch' network which utilises the towers to provide essential data for monitoring atmospheric gases, such as carbon dioxide, methane, ozone, and nitrous oxide. This data is then referenced by research organisations around the world for scientific purposes, including weather forecasting and the study of climate change. 
Due to the sensitive nature of the equipment, and the geography of the Kennaook/Cape Grim site itself, the tower replacement project required Amplitel to ensure minimal disruption and environmental impact.  
Amplitel's structural engineering team has been instrumental in reducing the environmental impact of the project. Through careful analysis of the site, the Amplitel engineering team has completed the project with a soil displacement of just 85m3 - a reduction of eight times compared to other proposed solutions, without compromising structural integrity. The innovative construction process also ensured minimal disruption of on-site Bureau of Meteorology station equipment, thanks to a zero-soil compacting method that required just 8 hours of heavy machinery operation. Modern engineering techniques were also deployed to minimise the amount of concrete and construction time needed to reduce environmental impact and existing equipment downtime. 
The Kennaook/Cape Grim facility provides microwave transmission to King Island and a small nearby community, enabling wideband fibre service to the Bureau of Meteorology and mobile phone reception in the area. The original 76m tower was constructed in 1984 and was at the end of its serviceable life. It has been replaced with an 80m LeBlanc Type 195 Tower sitting on 4 reinforced bored piers. 
As part of its ongoing maintenance, Amplitel will implement a fully functioning 'digital twin' (a virtual model that reflects the physical tower) for the Kennaook/Cape Grim Tower. This technology, combined with a drone inspection and maintenance program, will provide high-resolution imagery to monitor the tower's performance over time. These practices are especially beneficial as some of Amplitel's towers are located in challenging and remote environments, where the priority is to maintain service while minimising disruption and downtime. 
The tower's 'digital twin' will leverage Amplitel's engineering data, allowing for predictive analytics that can identify actions and strategies required to mitigate downtime from extreme weather events and the effects of corrosion over time.  
Amplitel's novel engineering methods and research have not only made the Kennaook/Cape Grim Tower project possible, but they are also informing the revision and modernisation of the national standard for telecommunication structures.  
Andreea Luca, Structural Engineering Lead at Amplitel & Standards Australia Technical Committee Chair said: "At Amplitel, we want to lead the charge on innovation and modernisation in the wireless infrastructure industry. We are also committed to embedding sustainability in every engineering decision we make, from design to deployment and operation. The Kennaook/Cape Grim tower project is a good example of this process in action, and we look forward to taking lessons from this tower replacement to set new standards of operational potential. We ultimately want to encapsulate the best experience and deliver to our tower industry a new, modern and comprehensive standard."  
The lifecycle rebuild project's completion is just one of many Amplitel projects across Australia designed to increase the quality and availability of wireless communication. With a goal to support Australia's growth from the ground up, Amplitel is approaching 200 new tower builds since its inception in September 2021.